ENVIRONMENTAL CHEMICAL
ANALYSIS LABORATORY
La Società P&P LMC srl vanta un laboratorio chimico che esegue analisi e prelievi di matrici ambientali, accreditato dell'ente ACCREDIA, LAB N° 1897 L. P&P LMC srl è un'azienda con Sistema di Gestione per la Qualità certificato ISO 9001:2015 Certificato CSQ n° 9175.ILMC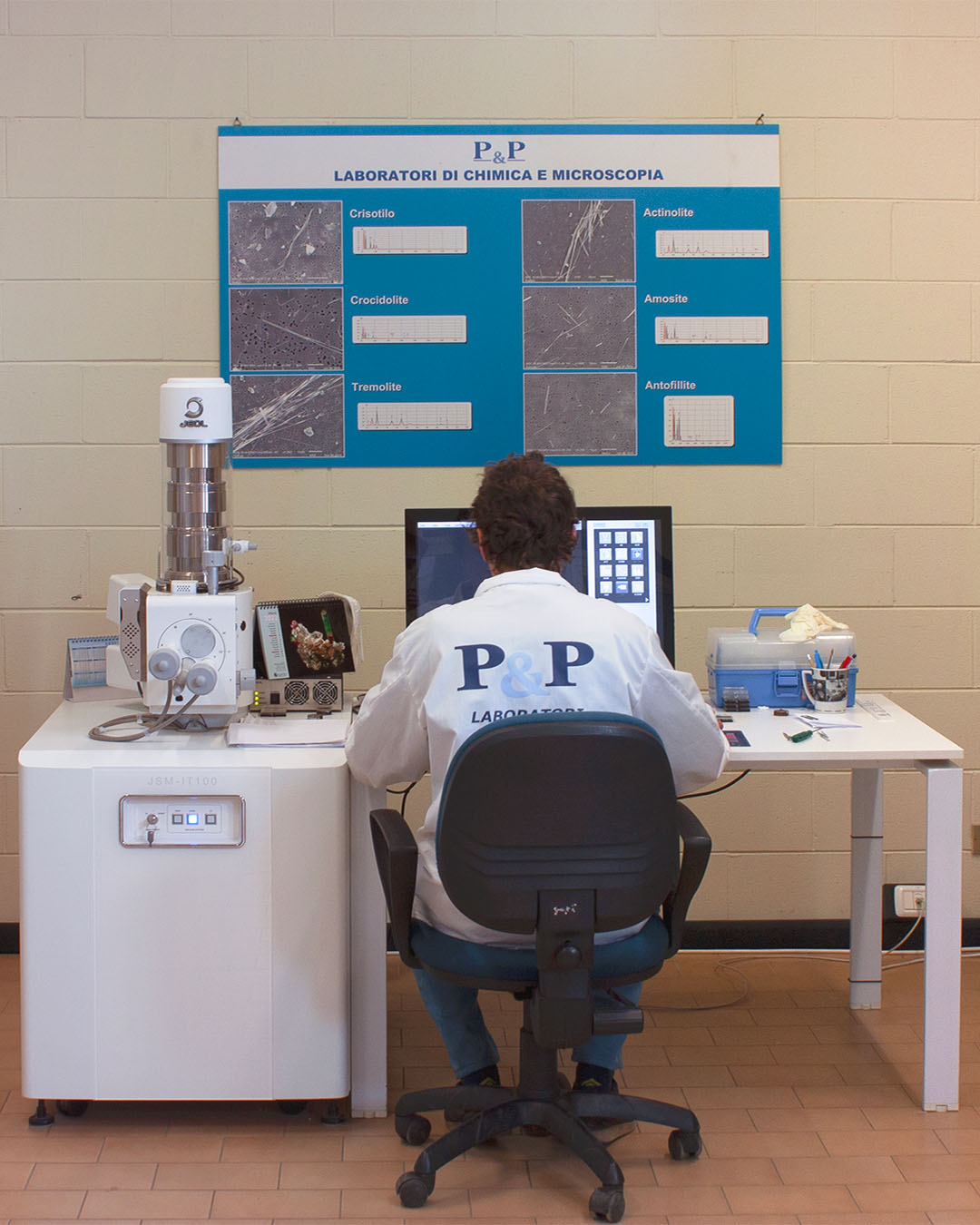 The P&P LMC srl company is included in the Ministry of Health's list of laboratories qualified to carry out analyzes on asbestos using SEM (scanning electron microscopy). Laboratory Code LOM52.
In particular, using the SEM-EDX technique, scanning electron microscopy combined with X-ray microanalysis, we are able to perform:
Determination of the concentration of aero dispersed asbestos fibers
Determination of the weight content of asbestos in soil samples and massive samples in general
Verification of the presence / absence of asbestos on roofing samples
Our instrument is equipped with acceleration voltage up to 20 keV as required by the Ministerial Decree of 06.09.1994.
Furthermore, we classify the FAV (Artificial Glass Fibers) for disposal.
The laboratory carries out analyzes of excavated earth rocks, based on the parameters defined by Presidential Decree 120/2017 and according to Annex 5 Title V Part IV Tab.1 of Legislative Decree No. 152/06, in relation to the intended use of the 'area: green, residential or industrial / commercial.
For years, the P&P LMC srl laboratory has had an agreement with ANCE Bergamo (National Association of Bergamo Building Constructors).
The environmental chemical laboratory of the company P&P LMC srl carries out characterization analyzes of any type of waste to identify the characteristics of danger that can potentially arise during the production process.
The characterization and classification of waste is essentially performed mainly for the verification of the assignment of the EWC code, to define the hazard classes and any admissibility to landfill and admissibility for recovery.
Civil Laboratory
The Materials Testing Laboratory carries out the necessary tests for the CE marking of construction materials, in accordance with the relevant harmonized product standards.
MECHANICAL TESTS LABORATORY
The mechanical testing laboratory carries out activities aimed at the verification, control, approval and qualification of materials.
CHEMICAL LABORATORY
The main laboratory activities are: sem, earth and rocks, waste, water analysis, emissions and work environments, airborne sampling.
EXISTING BUILDINGS LABORATORY
The existing buildings laboratory supports the professional in drawing up the investigation plan, carrying out tests compliant with regulations and carrying out the restoration of the test points.
The environmental chemical analysis laboratory offers analytical services for the determination of the parameters required by the regulations in force concerning waste, discharge and meteoric waters.
Our technicians also perform groundwater sampling from piezometers.
EMISSIONS AND WORK ENVIRONMENTS
The environmental laboratory checks the emissions into the atmosphere, conveyed and diffused, generated by the plants to verify compliance with the limits set for the substances emitted indicated in the authorization documents.
We are also equipped to carry out investigations and instrumental surveys in the field of hygiene and safety at work. In particular, investigations in the workplace are aimed at assessing the specific risks for worker exposure based on the provisions of Legislative Decree 81/08.
We also have mobile control units for dust monitoring: PTS, PM10, PM 2.5. The monitoring is carried out in various production activities such as, for example, quarries and construction sites.