SURVEYS WITH LASER SCANNER AND DRONE
The survey by laser scanner allows to make the transition from the two-dimensionality of the traditional survey to the three-dimensionality originated by the creation of point clouds and their subsequent processing using dedicated software. The point clouds obtained by laser scanners can be integrated with additional information through the complementary use of tools such as aerial drones (SAPR) equipped with high-resolution cameras, LIDAR and GPS RTK antennas, to obtain photogrammetric and geospatial data, respectively.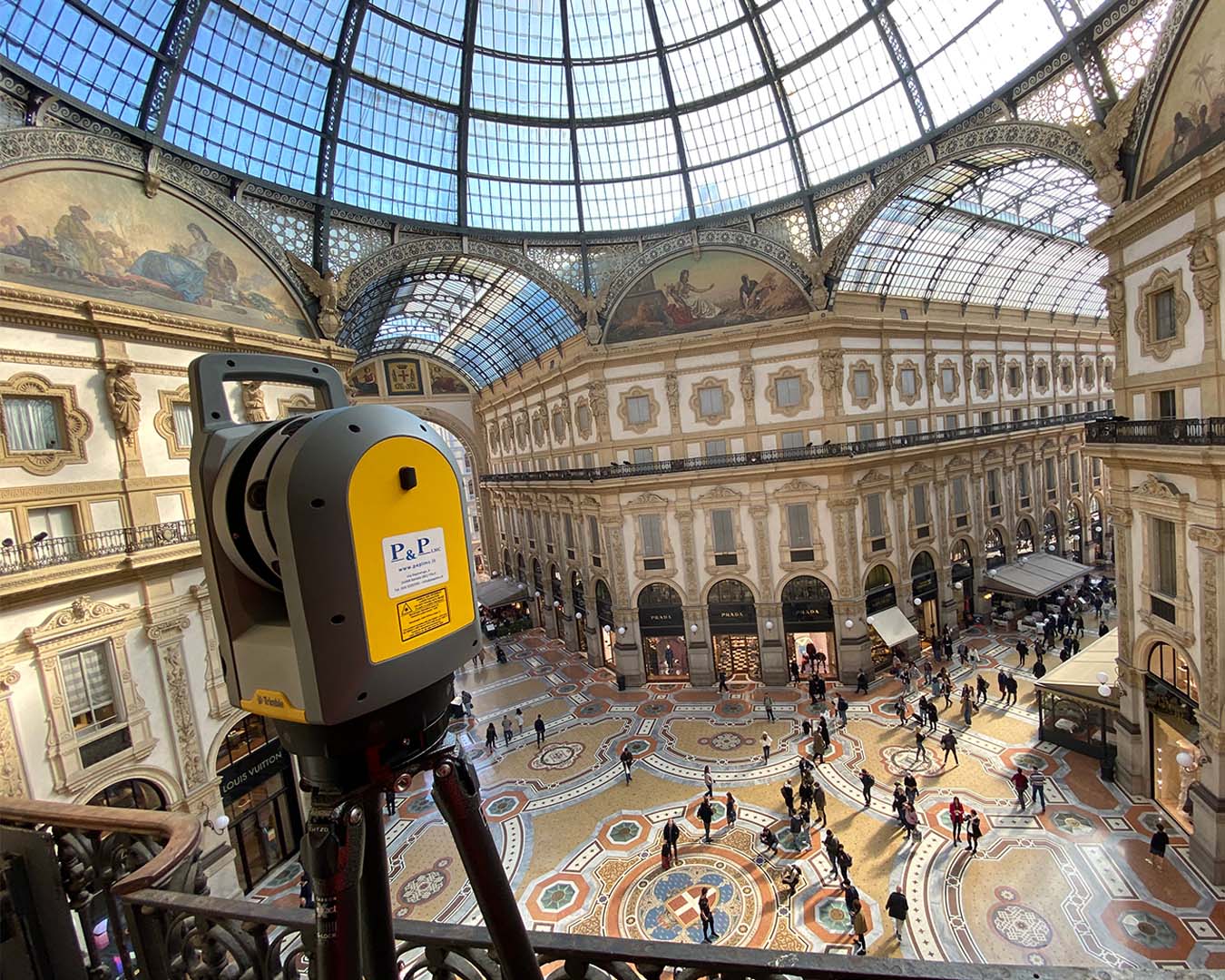 Each single point constituting the whole of the point cloud is identified by its spatial position, expressed with respect to the origin through the position of the instrument itself, with the possibility of georeferencing it with GPS points and its chromatic coordinates deriving from the photographic mapping performed by the cameras integrated in the Laser Scanner, which therefore allow to acquire the RGB data through the reflectance of the object. The photographs also allow the creation of navigable and measurable orthopanoramas.
The result of the synergy between the use of the different instruments available is a digital model of the object discretized in millions of points, which represents the basis for subsequent operations.
You can interact with the 3D models opposite by zooming in, out and rotating the model to see the details that interest you most.
SURVEY - INVESTIGATIONS - MONITORING
ACOUSTICS AND VIBRATIONS
In the field of environmental acoustics, P&P boast an important experience both in the execution of acoustic monitoring campaigns and in the execution of studies ...

IN SITU TEST AND DIAGNOSTICS
P&P performs static and dynamic load tests on multiple types of structures in the civil and industrial fields, as well as in the infrastructure sector.
STRUCTURAL MONITORING
P&P designs, manufactures and installs static and dynamic monitoring and surveillance systems equipped with specific automatic management software.

BRIDGES AND INFRASTRUCTURE
Road and rail transport infrastructures have always been part of the P&P Group's scope of intervention which supports the managing body of the road infrastructure in ...
Starting from the reworking of the point cloud, it is possible to obtain 2D outputs, such as floor plans, sections and elevations, and 3D models from a BIM perspective containing the information obtained in the field through a sort of "reverse engineering", i.e. an inverse modeling on the base point cloud.
This workflow and the tools used make it possible to quickly obtain high-precision surveys, capable of providing a level of detail suited to different needs. The acquisition of millions and millions of points allows you to have a complete and measurable survey in every visible part of the investigated object.
The potential to obtain an extremely accurate survey of the geometry and state of conservation of the works and artefacts allows the application of this survey method in many fields: from the survey of existing buildings for the purpose of redevelopment and restoration to infrastructural monitoring, such as example of bridges and tunnels.